Our Beliefs and Values
Our principle
has always been that we are here to serve the best interests of our clients. We pride ourselves in being open minded, innovative and good at what we do.
Our staff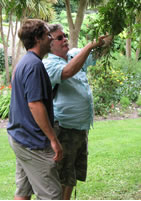 We recognise that Arboriculture cannot function in isolation from other professions and disciplines and our people have wide ranging skills, qualifications and experience. Beyond Arboriculture we also have staff experienced in surveying and building studies. We feel that it is important to our clients that our people have qualifications, the level of which is immediately recognisable and understood.
We are aware that Arboriculture is a constantly evolving science and that, to best serve our clients, we must keep abreast of developments. Our people are encouraged to attend seminars and conferences and to pursue a path of continuing professional development.
Our beliefs
We like trees; we recognise trees as amazing and wonderful, but we do not go out and hug them! We realise that trees are, for the most part, a renewable resource. We feel that, within society, far too much attention is paid to retaining often unsuitable trees and nowhere near enough importance is given to management felling and new planting. We are deeply concerned that if consideration is not given now to replacement of trees the future will definitely not be such a green place in which to live.
Our pledge
to our clients is this: We will tell you how it is and not milk a 'no hope' situation and we will not recommend tree work that you do not need. We will not visit your site without charging you, because the truth is not cheap, but advice taken now could save you money in the future.